40岁的人能和20岁的人约会吗(二)
正文翻译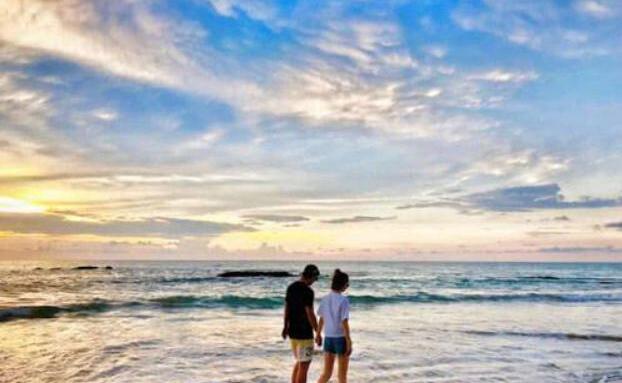 Can a 40-year-old date a 20-year-old?
40岁的人能和20岁的人约会吗?
评论翻译
Cesar Munz, Art Director/Marketing

Cesar Munz,艺术总监/营销
I'm reading through the comments and boy are there a lot of older man haters out there who believe the ideal relationship can me summed up with how many years older or younger a person is and apply these ridiculous age formulas. That is quite a superficial way at it. I think a lot of women and men have been brainwashed into thinking its a bad thing for an older man to be with a younger woman because they saw it in some hollywood movie or sitcom, all stereotypes. This belief is more commonly perpetuated by older women (29 and above) to shame the older man who goes for the younger woman because let's be honest, the older woman hates the idea that most men want and desire younger women because she is more beautiful, less jaded, and tends to have a more positive personality. The older woman as well as her recruited brainwashed men followers always go on and on about the older man's lust being the reason (as though younger men are the only ones with good intentions). Let's face it, the older women cannot compete with the younger women and it angers them when a high quality man gets with a younger woman. I am 46 and married to my 21 year old wife for 2 years now. We have many things in common and enjoy the same activities. Out of all the women I've had relationships with, she is the one I am most compatible with. This idea that a man and a woman should not have more than a 7 year age gap is total nonsense, having the same age does not guarantee you are compatible, its more a matter of character than of age. Just because you are of similar age does not mean your are exempt from all the problems mentioned here. A woman under 28 does not necessarily mean she is immature. An older 50 year old woman is capable of being shallow and immature, in some cases more than a 21 year old woman, it all depends. Age does not necessarily mean experience. Every relationship is different, how can you claim to know it all. How can you paint all these older mature men with the same paintbrush and label them in an undignified manner. How can you know their true intentions, their feelings, reasons, for doing what they do.

我读了这些评论,发现有很多老男人憎恨那些人,这些人相信理想的关系可以用一个人的年龄大小来定义,然后通过某些荒谬的年龄公式来计算。这是一种相当肤浅的做法。我认为很多男人和女人都被洗脑,认为年长的男人和年轻的女人在一起是件坏事,因为他们在一些好莱坞电影或情景喜剧中看到了这一切,这都是刻板印象。这一信念在年龄较大的女性(29岁及以上)中更为普遍,这会让追求年轻女性的年长男性感到羞耻,因为老实说,年长女性讨厌大多数男性想要和渴望年轻女性的想法,因为她更漂亮,她们不那么容易疲惫,性格也更积极。年长的女人和她招募的被洗脑的男性追随者们总是没完没了地说老男人的欲望是原因(好像只有年轻男人才有好的意图)。让我们面对现实吧,年长的女人无法与年轻的女人竞争,当一个高质量的男人和一个年轻的女人在一起时,这会激怒她们。我今年46岁,和我21岁的妻子结婚两年了。我们有很多共同点,也喜欢同样的活动。在我交往过的所有女性中,她是我最能相处的。男人和女人之间的年龄差距不应该超过7岁,这种想法完全是胡说八道,同龄并不意味着你们就能和睦相处,与其说是年龄问题,不如说是性格问题。仅仅因为你的年龄相仿并不意味着你就可以免于这里提到的所有问题。28岁以下的女性并不一定意味着她不成熟。一个50岁以上的老女人也会变得肤浅和不成熟,在某些情况下会比一个21岁的女人更肤浅和不成熟。年龄不一定意味着经验。每一段关系都是不同的,你怎么能声称自己无所不知呢。你怎么能把这些年长的男人描绘成一个人,并以一种不庄重的方式给他们贴上标签呢。你怎么知道他们的真实意图,他们的感受,他们做这些事的原因。
Kasthuri Shankar, worked at Indian Actors and Actresses

Kasturi Shankar曾在印度男女演员事务所工作
So why is everyone assuming that the 40 year old in this question is the male ? And then ofcourse, all the men saying, " Hell yeah, its cool"..... would you find it cool the other way around ?
Speaking for women, I think a 40 year old woman and a 20 year old young feller can totally hit it off too.

那么,为什么每个人都认为这个问题中的40岁是男性呢?当然所有的男人都会说,"见鬼,是的,很酷"。(年龄差)反过来你会觉得很酷吗?
对于女人来说,我觉得一个40岁的女人和一个20岁的年轻男人也能合得来。
Whitney Huffnagle, Massage Therapist at Entrepreneurship

Whitney Huffnagle, 在创业的按摩治疗师
I was once that young woman, not long ago, actually. I was 20 and my boyfriend was 36. I loved him but honestly, I got a lot of attention from men of all all ages and I have to admit, I liked older men because they come off as very "mature" but let's face it, as with ANY relationship after getting to know someone you see them for who they are, not what you "want" them to be.
I left him eventually because he was too controlling, and honestly immature (which is probably why he was with someone 16 years younger) My last relationship was with a 43 year old man and I'm 29. We met when i was 27. I ended this one too, for the same reasons. Being that I'm nearly 30, I've discovered more of myself and what I want. I also, don't really care about age anymore…..older/younger. However, most woman will tell you the older man fetish dies come late twenties. I would prefer someone who is closer to my age, because we can relate to the same things…..maybe about 6 years older….but no more. It will just look weird when someone starts to wrinkle and the others all fresh-faced!
Anyways, it's a free country. Just wanted to give you some female perspective of someone who has actually been more attracted to older men (in the past) key word PAST. If you just want to date and have fun, have at it! If you're looking to settle down, spare yourself the heartache she will most likely end up wanting to settle down with someone closer in age……it's just nature…Good Luck!!!

我也曾是那个年轻女人,事实上,就在不久之前。当时我20岁,我男朋友36岁。我爱他,但老实说,我得到了各个年龄段男人的很多关注,我不得不承认,我喜欢年长的男人,因为他们表现得非常"成熟",但让我们面对现实,,就像任何一段关系一样,在了解一个人之后,你会看到他们是谁,而不是你"希望"他们成为什么样子。
我最终离开了他,因为他控制欲太强,而且说实话还不成熟(这可能就是为什么他会和比他小16岁的人在一起)。我上一次的恋情是和一个43岁的男人,我今年29岁。我们是在我27岁的时候认识的。出于同样的原因,我也结束了这段关系。因为我快30岁了,我更了解我自己和了解我想要的东西。我也不再关心年龄了,不关心年长或者年轻。然而,大多数女人会告诉你,对老男人的迷恋会在20岁后期消失。我更喜欢和我年龄相近的人,因为我们可以有相同的经历,也许年龄差6岁吧,但是不能再大了。如果有人开始起皱纹,而其他人的脸却焕然一新,那就太奇怪了!
无论如何,这是一个自由的国家。我只是想从女性的角度告诉你一个人其实更喜欢(过去的)老男人。如果你只是想约会,想找点乐子,那就去吧!如果你想安定下来,别再为自己伤心了,因为她最终很可能想找一个年纪更近的人安定下来,这是自然的,祝你好运!!
Alex Cherry, amateur Dan Savage wannabe.
As a general rule, I recommend the "half your age plus 7" as the minimum age for your partner. At 43, half is 21.5 plus seven makes 28.5, so a 28–29 year old would be the youngest appropriate partner.
That said, there's nothing inherently wrong with getting involved with a college aged women if you're forty-three, so long as you handle things carefully.
First, there's going to be a significant power imbalance, both in life experience and in finance. The older partner is presumably grounded in a stable career with a good income, and the younger partner is either still in school or just beginning their career. Understand that it's the responsibility of the older partner to provide most of the resources in the relationship in a manner that is both empowering and provides agency for the younger partner. That is much harder than it sounds.
Second, you're going to want to do very different things. I'm on the cusp of 40, and I have literally zero desire to go out partying at the club all night. I can assure you that a college-aged woman is strongly likely to still be in the "party like crazy" stage in life. That means that you're going to have to be not only okay with, but comfortable with her going out to party and probably get drunk with her peers while you stay home. You may occasionally join, but I don't recommend it - let the kids have their party for themselves. That's just an example, too - there are many things something who is young and in the prime of their life will want to do that someone who is reaching midlife will have no interest in, and vice versa. You'll have to learn to handle those situations with aplomb, or at least not be a dick about it.

一般来说,我建议另一半的最低年龄是"你年龄的一半加上7岁"。43岁时, 一半是21.5,再加上7岁是28.5,因此28-29岁的人43岁可选择的最年轻的合适伴侣。
也就是说,如果你43岁,和一个大学年龄的女人交往没有什么内在的错误,只要你小心处理事情。
首先,无论是在生活经历还是在财力方面,都将出现严重失衡。据推测,年长的伴侣有着稳定的职业和丰厚的收入,而年轻的伴侣要么还在上学,要么刚刚开始他们的职业生涯。要明白,在这段关系中,年长的一方有责任为年轻的一方提供更多的资源,这比听起来要难得多。
其次,你会想要做非常不同的事情。我都快40岁了,但我真的一点都不想去俱乐部彻夜狂欢。我可以向你保证,一个大学年龄的女性很可能仍然处于向往"疯狂派对"的人生阶段。这意味着你不仅要接受,而且要适应她出去参加派对,可能还要和她的同伴们喝得酩酊大醉,而你就只能待在家里。你可能偶尔参加,但我不推荐—让孩子们自己开派对吧。这也仅仅是一个例子—有很多事情是正处于黄金年龄的年轻人想要做的,而中年人对这些事情没有兴趣,反之亦然。你必须学会泰然自若地处理这些情况,或者至少不要表现得像个侦探。
Third, presuming your relationship becomes physical, you're going to have to take the lead. It's unlikely that someone in their late teens and heterosexual has a great deal of sexual experience, and in the West, it's unlikely that a woman that age is very knowledgeable about their own pleasure and how good sex can be. As the experienced partner, it's your job to ensure that she blossoms sexually while you're together. Really, this should apply to both partners in every relationship, but it's especially important in an age-disparate relationship where one partner is so young.
Fourth, you need to consider long-term goals, and communicate them open and honestly. It's incredibly unlikely that you will end up staying together with someone so much younger than you for a long; likely, you two will enjoy each other for a while and end it mutually. That's perfectly okay - every relationship that ends is not a failed relationship if you've learned something from it and become a better person for it. Given that you're not likely to get hitched to this young woman, you need to make sure that you can communicate your goals for the relationship openly and honestly with her. This includes things like having children!
Fifth, you need to be prepared for her friends, your friends, and everyone else to reject you and ridicule you. You'll get offhanded comments about being "gramps" or "old man" often. Your peers will call you cradle-robber. Her peers are always going to look at you strangely until they get to know you, A 43 year old dating a 20 year old is not within social norms, and you need to be prepared to deal with the fallout of that.

第三,假设你们的关系变成了身体上的关系,你就必须主动。一个十几岁的异性恋者不太可能有丰富的性经验,而在西方,这个年龄段的女性也不太可能对自己的快乐以及性生活有充分的了解。作为一个有经验的伴侣,你的工作就是确保你们在一起的时候,帮助她完善性知识。事实上,这应该适用于每一段关系,但在一段年龄相异的关系中尤其重要,因为其中一方太年轻了。
第四,你需要考虑长期目标,并开诚布公地沟通。你不太可能和一个比你年轻得多的人保持长久关系的;你们两个很有可能彼此享受一段时间,然后结束。这完全没关系——每一段结束的关系都不是一段失败的关系,如果你从中学到了一些东西,并因此成为一个更好的人。考虑到你不太可能与这位年轻女子结婚,你需要确保你能公开、诚实地与她沟通你的目标,这包括像生孩子这样的事情!
第五,你需要为她的朋友、你的朋友和其他人拒绝你、嘲笑你做好准备。你会经常听到关于"祖父"或"老人"的随意评论。你的同龄人会叫你吃嫩草的老牛。她的同龄人在了解你之前,总是会用一种奇怪的眼光看你,一个43岁的人和一个20岁的人约会是不符合社会规范的,你需要准备好处理这一后果。
Also, you do realize that since she's not 21 yet, she can't legally purchase or consume alcohol, right? She can't go with you to the pub to watch the game and she can't go anywhere that's 21+. That's more of a problem than you think it is - at 43 you've long since stopped noticing age restrictions, but dating someone under 21 means you'll notice again!
Either way, good luck

而且,你也知道,因为她还不到21岁,她不能合法地购买或消费酒精,对吗?她不能和你一起去酒吧看比赛,也不能去任何21岁以上才可以去的地方。这是一个比你想象的更大的问题—43岁的你早已不再注意年龄限制,但与21岁以下的人约会意味着你会再次注意到!
不管怎样,祝你好运!
Anne Johnson, former Helper of Sorts at Self-Employment
My late Great grandfather was 39 when he met and fell head over heels in love with my late great grandmother who was then just 19.. a year later he was 40, she was 20.. they waited till she was 21 for my great grandfather to request permission for him to marry her. That was back in 1941. Her parents refused and as far as I can gather never ever spoke to her again. (how incredibly sad I think!) They married, had three wonderful daughters (the eldest of which my dear gran who is now 74) and lived happily together for a further 48 years until my great grandfather passed away in her arms then aged 99. She lived a further 27 years till she passed away aged 96 and never stopped loving and adoring him! now THAT'S true love if you ask me!

我已故的曾祖父在39岁的时候遇见了我已故的曾祖母,并深深地爱上了她,当时她才19岁。一年后,他40岁,曾祖母20岁。他们一直等到她21岁,我的曾祖父才请求允许她嫁给他。那是在1941年,她的父母拒绝了,据我所知,她的父母再也没有和她说话过。(我想这是多么令人难以置信的悲哀!)他们结了婚,生了三个漂亮的女儿(其中最大的一个女儿是我亲爱的奶奶,现在74岁),并幸福地生活了48年,直到我的曾祖父在她怀里去世,享年99岁。她又活了27年,直到96岁去世,并且从未停止过对他的爱和崇拜!如果你问我,我会告诉你那才是真爱!
原创翻译:龙腾网 http://www.ltaaa.cn 转载请注明出处


Savannah Shaul, studied Engineering & Atmospheric & Oceanic Sciences at University of Maryland, College Park

萨凡纳.沙尔,马里兰大学帕克分校工程与大气与海洋科学专业
As someone whose parents have a 20-year age gap, I feel uncomfortably qualified to answer this question.
In short: Yes. As adults, you are responsible for making your own decisions and nobody can look at you and say "NO, you can't do this!"
And let me explain:
In a relationship, you two probably enjoy doing similar activities, and are healthy and able enough to enjoy those activities. At 20 years old and 40 years old, your lives are easily compatible. This is especially true for a more mature 20-year old and a young spirited 40-year old. Hell, the two of you are still young enough to have kids if wanted. It's almost as if the age gap isn't there at all!

作为一个父母有20岁年龄差距的人,我感到很不舒服,但也具备回答这个问题的资格。
简而言之:是的。作为成年人,你要为自己的决定负责,没有人可以看着你说:"不,你不能这样做。
让我解释一下:
在一段关系中,你们两个可能喜欢做类似的活动,并且身体健康,能够享受这些活动。在20岁和40岁的时候,你们的生活很容易和谐。对于一个更成熟的20岁和一个年轻的40岁的人来说尤其如此。你们俩年纪还小,想要孩子还能生。就好像根本没有年龄差距一样!
The issue arises when the older individual in the relationship reaches older ages, and the differences become amplified. When the older partner reaches retirement age, they may still be raising younger kids or have a working partner still building their career. The classic idea of spending the retirement days golfing, going on vacations, and spending time with the grandkids isn't their reality. More importantly though - the older partner is at a much higher health risk: cancer, heart disease, hearing loss. When your once equal in the relationship turns into a longterm caregiving position, the happiness of the two individuals (and sanity) can quickly deteriorate. This is also difficult for the children's perspective, as facing the demise of one parents much quicker than the other is inevitable. And when the second partner finally reaches the great age of retirement, they also can't enjoy it in the classic way; their partner has grown too old to do the things they once dreamed of doing. The differences in age are shown through health, willingness and ability to do activities, and comparison to close friends who are usually in relationships with others of the relatively same age.
Don't get me wrong, relationships with this kind of age gap can be beautiful, sincere, and lifelong. My parent's starting dating when my mom was only 19, married when she was 26, and had me when she was 37 - with my dad being 18 years older. Some of my experiences could be from them having me so late in life, but often I see them just wanting different things at that moment in their lives. I've had the opportunity to date men with about the same age gap (15–20 years), but I also ask myself where I want to be in 15 years and where they will be then. The overarching theme is that I don't think we will ever be in the same place, and time can't be manipulated into making that work.
If going forward with this relationship, pray for good health, a good support system, and a little luck. I hope the two of you can find peace about the issues you will most likely face - sooner rather than later.

当关系中的年长者达到老年时,问题就出现了,这种差异就会扩大。当年长的伴侣达到退休年龄时,他们可能仍在抚养年幼的孩子,或者有一个工作伴侣仍在为他们的事业发展。退休日打高尔夫球、度假、和孙子们在一起的经典想法并不符合他们的现实情况。但更重要的是,年长的伴侣有更高的健康风险:癌症、心脏病、听力损失。当你们曾经平等的关系变成了长期的照顾关系,两个人的幸福感(和理智)会很快恶化。这对孩子们来说也是困难的,因为需面对父母中一方比另一方更快接近是不可避免的。当第二个伴侣最终达到退休年龄时,他们也不能以传统的方式享受它;他们的伴侣年纪太大了,不能做他们曾经梦想过的事情。年龄的差异表现在健康状况、参与活动的意愿和能力,和亲密的朋友相比,那些亲密的朋友通常和年龄相仿的人交往。
不要误会我的意思,这种年龄差距的关系可以是美好的、真诚的,而且是终生的。我父母在我母亲19岁时开始约会,26岁时结婚,37岁时生下我—我父亲比我大18岁。我的一些经历可能是因为他们晚年才拥有我,但我经常看到他们在生命中的那个时刻想要不同的东西。我曾经有机会与年龄差距大致(15-20岁)的男性约会,但我也问自己15年后我想在哪里,他们会在哪里。主要的主题是,我认为我们永远不会在同一个地方,而时间是无法被操纵的。
如果继续这段关系,请祈祷身体健康、能互相鼓励和一点运气。我希望你们俩能平和地面对你们最有可能面对的问题,而且越早越好。
Rolando Lopez, Been DJing since 2000 and Producing since 2004.

罗兰多·洛佩兹,2000年开始担任DJ,2004年开始制作。
There are several marriages of those with huge age gaps that have lasted through the test of time. Let us weed out most of the current celebrity ones because certainly it is all about proving something. Rather, look to those who have weathered so much in their lives, look at other cultural marriages and learn what traits they had to keep the relationship growing stronger. In today's times it is not easy for marriages to last because of the false pretenses and so called societal norms in the name of freedom being indoctrinated into us.
I turned 40 this year and I am dating a 23 year old who is wise beyond her years! We both bring out the best in each other. I am more of a kid at heart, always playful and she is a bit more reserved. We tend to exude a great balance between us. At times when either of us do get perturbed, we both know to give each other our space or, whoever is calmer at the time will walk together through the issue and resolve it. The other joys of dating her is that I enjoy making her laugh, she gets me. She further supports me in various ventures or ideas I may have and gives me the honest cut and dry truth, no BS and, vice versa. I do value what she has to say, it is not and simply cannot be a one-sided egoistic affair.
At the end of the day it all depends on how a couple flow together. Each individual have their own personality and traits.

有好几对年龄差距巨大的夫妻,他们的婚姻经历了时间的考验。让我们淘汰掉当前大多数名人,因为这当然都是为了证明一些东西。相反,看看那些在生活中经历了诸多磨难的人,看看其他文化中的婚姻关系,了解他们有哪些特质可以让他们的关系变得更牢固。在当今时代,婚姻不容易长久,因为虚假的伪装和所谓的以自由为名的社会规范正在灌输给我们。
今年我已经40岁了,我正在和一个23岁的女孩约会,她的智慧超越了她的年龄!我们都能激发出对方最好的一面。我的内心更像个孩子,总是爱玩,而她则有点矜持。我们之间往往流露出极大的平衡。当我们中的任何一方感到不安的时候,我们都知道要给对方空间,当时谁更冷静,谁就能主导一起解决这个问题。和她约会的另一个乐趣是我喜欢逗她笑,她喜欢我。她在我可能有的各种冒险或想法中进一步支持我,并告诉我实话实说,没有废话,反之亦然。我很重视她说的话,这不是也不可能是单方面的利己主义。
归根结底,这一切都取决于一对夫妻如何相处。每个人都有自己的个性和特点。
Brent Nils, studied at Cuyahoga Community College

Brent Nils,在亚霍加社区学院学习
Ah yes, before dating someone better go ahead and get on Quora to get permission first, right?
So, what if I told you NO you can't date a 25 year old man. What would you do? Would you obey me? Would you call this man up and say, "sorry, I would really like to go out with you, but you are too young for me, the guy on Quora said so?"
What would that say about you?
Decide whether or not you like the guy enough to date him and proceed. If you want to date him, fine. If you are looking for an excuse to reject him, you don't need to. You are not obligated to date anyone at all. So if his young age turns you off, you can just say so, and not have to to on Quora to find people to back you up.

啊,是的,在和某人约会之前,最好先来QA获得许可,对吗?
那么,如果我告诉你不行,你不能和一个25岁的男人约会。你会怎么做?你会服从我吗?你能给这个人打电话说:"对不起,我真的很想和你出去,但是你对我来说太年轻了,QA上的那个人这么说的"
这对你有什么影响?
看你是否足够喜欢这个男人,喜欢的程度到可以和他约会并继续发展。如果你想和他约会,没关系。如果你在寻找拒绝他的借口,你不需要这样做。你根本没有义务和任何人约会。所以,如果他的年龄让你反感,你可以直接说,而不必来QA找人支持你。